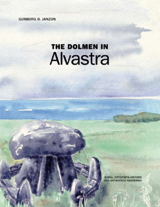 The Dolmen in Alvastra
Gunborg O. Janzon
Buy 200 SEK
One April day in 1916, three large stone blocks were blown up in a field on the south slope of Mount Omberg. The blast exposed a large number of human bones. The event called to mind a folk tradition about the murder in the twelfth century of King Sverker the Elder, who was then residing in Alvastra. The king was killed by his stable boy on the way to Christmas matins in 1156, and the assassin is said to have been executed at this very spot in the field. The archaeologist Otto Frödin, who investigated the site after the explosion, was heavily influenced by the tradition and interpreted the place as "Galgbacken" or "Gallows Hill". Another archaeologist, Ture J. Arne, believed instead that it was a Stone Age tomb. The differing opinions provoked an intense debate during the 1920s, and since then the interpretation has been an open question.
In 1980-1983 a new archaeological excavation was conducted, yielding evidence of a megalithic tomb, dated to c. 3200 BC. The analyses showed, moreover, that among the bones there were remains of a stoutly built old man, dated to c. 6300 BC. Presumably he had originally been buried where the megalithic tomb was built 3000 years later.
Gunborg O. Janzon sums up the early excavations, also looking at the broader picture of cultural history, and gives an account of more recent investigations using new methods of analysis. She describes the cultural landscape of the Alvastra district as it looked around 3500-3000 BC.
GUNBORG O. JANZON was formerly senior lecturer at Stockholm University and research director at the Museum of National Antiquities (SHM) in Stockholm. In 1980-83 she led the excavation of the megalithic tomb in Alvastra.
Authors: Gunborg O. Janzon with contributions by Mattias Ahlbeck, Torbjörn Ahlström, Göran Skog and Helene Wilhelmson.