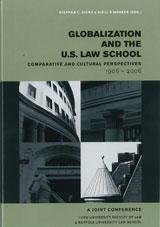 Globalization and the U.S. Law School – Comparative and Cultural Perspectives 1906-2006
Stephen C. Hicks (ed.), Kjell-Åke Modéer (ed.)
Buy 170 SEK
In January 2007 the Faculty of Law at Lund University celebrated the centennial in 2006 of Suffolk University Law School in Boston, Mass., with a symposium entitled Globalization and the U.S. Law School: Comparative and Cultural Perspectives, 1906-2006.
The symposium was organized by the professors Stephen C. Hicks (Suffolk) and Kjell Å. Modéer (Lund). The lecturers from this symposium are published in this volume, edited by Professors Hicks and Modéer.
The main theme for the symposium was a hundred years of legal education. The first part presented the cultural and educational context at the time of the foundation of the Suffolk Law School in 1906 in the U.S. and Sweden. The second part considerad post-war U.S. law schools with their modern concepts derived from legal realism and their new international academic émigrés from Europe. The third and last part described the current condition of legal education with an increasingly international and transnational paradigm of global law and global law and global law schools.