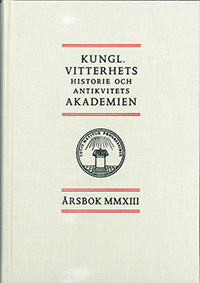 Printed book
Out of stock




Årsbok 2013
Out of stock
Årsboken innehåller bl.a. föredrag av:
Johan Norrback och Jan Ling, "Flöjturet och tiden"
Torun Lindholm, "Minnets påverkbarhet"
Zhang Longxi, "Lessons from Mount Lu. China and Cross-Cultural Understanding"
Kirsten Haustrup, "Mennesker mellem samfund og natur. Fangerfolk og klimaforandringer i Nordvestgrønland"
Arne Jarrick, "Historiens riktning och humanvetenskapens"
Per-Arne Bodin, "Dubbelörnen i det postsovjetiska Ryssland. Gamla traditioner och dubbla budskap"
Richard Whitley, "Institutional Change and Scientific Innovations. The Roles of protected space and flexibility"
Mats Malm, "Ordens flykt och drömmen om det stabila vetandet"
Jan Hjärpe, "Sju sovare och religionernas möte"