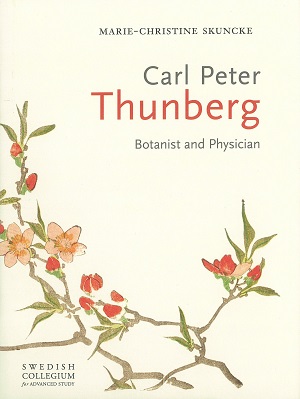 Carl Peter Thunberg
Marie-Christine Skuncke
Buy 275 SEK
The Swedish botanist and physician Carl Peter Thunberg, a pupil of Linnaeus, was the only European who visited and published his observations of Tokugawa Japan in the eighteenth century. On his way to and from Japan, he visited territories in the Dutch colonial empire: the Cape Colony, Batavia (present-day Jakarta), and Ceylon (Sri Lanka). Following his return to Sweden, he made a spectacular career at the University of Uppsala. He published a ground-breaking work on Japanese plants, Flora Japonica (1784), and a travel account that was translated into several languages. In 1787 the Swedish king Gustav Ill, on Thunberg's initiative, founded a new Botanical Garden and a monumental building for natural history – Linneanum, now the home of the Swedish Collegium for Advanced Study (SCAS) – as a gift to the university.
Marie-Christine Skuncke reconstructs Thunberg's scientific career by exploring exchanges within the networks which he built in Europe, the Dutch colonies, and Tokugawa Japan. Drawing on a wide range of sources, this book is a study of social practices in natural history, in a global perspective.
Marie-Christine Skuncke, Professor of Literature at Uppsala University and a Former Fellow of SCAS, was born in Paris of a Swedish father and a French-Polish mother. She holds a PhD from the University of Cambridge. Since 1995, she chairs the Uppsala Interdisciplinary Seminar in Eighteenth-Century Studies. She has published extensively on eighteenth-century Sweden in a European perspective, with a particular focus on theatre and opera, the education of Gustav Ill, political rhetoric, and media history. Her research on Thunberg has turned her attention to relations with Asia and Africa.