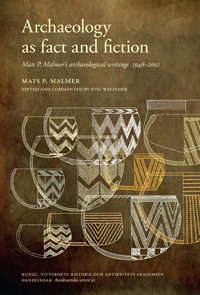 Archaeology as fact and fiction – Mats P. Malmer's archaeological writings 1948-2002
Stig Welinder (ed.)
Buy 235 SEK
Mats P. Malmer (1921–2007) was Professor of Archaeology at the universities in Lund and Stockholm from 1968 to 1988. Throughout his career he influenced generations of students and colleagues as a researcher, author and debater.
This book collects book chapters and journal papers by Malmer, most of which have never appeared in English before. They range from the publication of his excavation of a Medieval hospital in Scania in 1948 to his monumental overview of Sweden's Neolithic from 2002. In between are writings where Malmer elaborated the views of archaeological method and theory first formulated in his likewise monumental dissertation Jungneolithische Studien from 1962. In its contemporary context, Malmer's work was innovative and controversial.
The pieces collected here were largely selected by M.P. Malmer's wife, Brita Malmer, Professor of Numismatics. A number of never previously published photos from the family album have been provided by their daughter Elin Malmer.
STIG WELINDER, Professor Em. of Archaeology, defended his doctoral thesis under the aegis of M.P. Malmer in 1972. He has commented on the texts and written an extensive introduction.