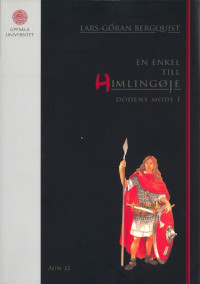 En enkel till Himlingøje – Dödens mode 1
Lars-Göran Bergquist
Buy 200 SEK
Published 2005
Isbn 9150618202
Type Paperback
307 pages
Swedish
Ur innehållet:
Inledning
Förord/Preface
Illustrationer/List of illustrations & kartor/list of maps
1. Dödens mode 1: Virrvarr av varianter
1.1 Den döde i Tournai
1.2 Kung Klodvig: Kristen barbar - Eller Tvärtom?
1.3 Solnedgång över stad med sju kullar - och något senare på kvällen
1.4 Döden som modefenomen
1.5 Cheops, Qin Shi Huangdi - och Olof Rudbeck
1.6 Dansk dynamit i arkeologins stenbrott
1.7 Skafferi för en schakal?
1.8 Haraldr Hàrfagri - och arkeologins dödgrävare
1.9 Den omvända arkeologins princip
1.10 Rex Dei Gratia: Kung av guds nåde
1.11 Maktens materialisering
1.12 Harald Hårfager: Ett hårdkokt exempel
3. Summary
4. Förkortningar/Abbreviations
5. Referenser/References 1: P.H. Dissertation
6. Catalogue with references 2 CD-Rom