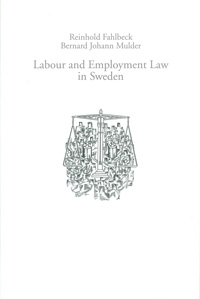 Labour and Employment Law in Sweden
Reinhold Fahlbeck, Bernard Johann Mulder
Köp 184 kr
This book presents an overview of labour and employment law in Sweden. In addition to factual information, it provides glimpses of the historical background and development of Swedish regulation and also some analysis. The influence of EU regulation is examined. The legal features of the "Swedish model" for industrial relations are highlighted. Most prominent are the very hight unionisation rate, the pragmatic and co-operative attitude of the labour market actors and the remarkable continuity of Swedish industrial relations. The highly centralised and collectivist nature of labour and employment regulation are pinpointed and so is the intimate interplay between statutory regulation and regulation in collective agreements.
Reinhold Fahlbeck is professor emeritus of labour law at the Law Faculty of Lund University.
Bernard Johann Mulder is assistant professor at the Kristianstad University College and at the Law Faculty of Lund University.