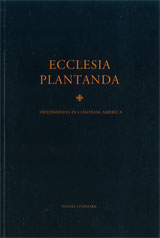 Ecclesia Plantanda – Swedishness in Colonial America
Richard Lindmark
Köp 149 kr
Publicerad 2005
Isbn 9188466647
Typ Häftad
234 sidor
Engelska
The history of Swedishness in colonial America began in 1638 with the foundation of the New Sweden colony on the Delaware River. In 1655, the colony was conquered by the Dutch, who in turn lost it to the English in 1664, but the Swedish settlers remained, their religious freedom being granted in the terms of surrender. By the end of the 17th century the Swedish community in America counted more than 1,000 souls. When put under pressure from newly arrived settlers of various ethnic and religious origins, the American Swedes turned to metropolitan authorities for support. From 1696 to 1786, the Lutheran Church of Sweden provided the Swedes in America with ministers and holy literature.
In Ecclesia Plantanda, Professor Daniel Lindmark opens new perspectives on the history of Swedishness in colonial America by combining sources from both sides of the Atlantic. The previously prevailing metropolitan mission perspective is replaced with a perspective of American religious history, in which the Swedish colonists are regarded as actors deliberately using their Swedishness as an instrument for promoting their interests. From this perspective of "political" ethnicity, the American Swedes developed certain strategies, ranging from ethno-religious distinctiveness to cross-ethnic and inter-confessional cooperation. Since these strategies served the function of distinguishing the Swedes from the other ethno-religious groups, early American Swedishness can be regarded as a boundary-marking phenomenon.
By investigating political actions, religious literature, interdenominational cooperation, church commitment, schooling projects, linguistic skills, and congregational government, this book presents new results in areas that previously have attracted only limited scholarly attention.