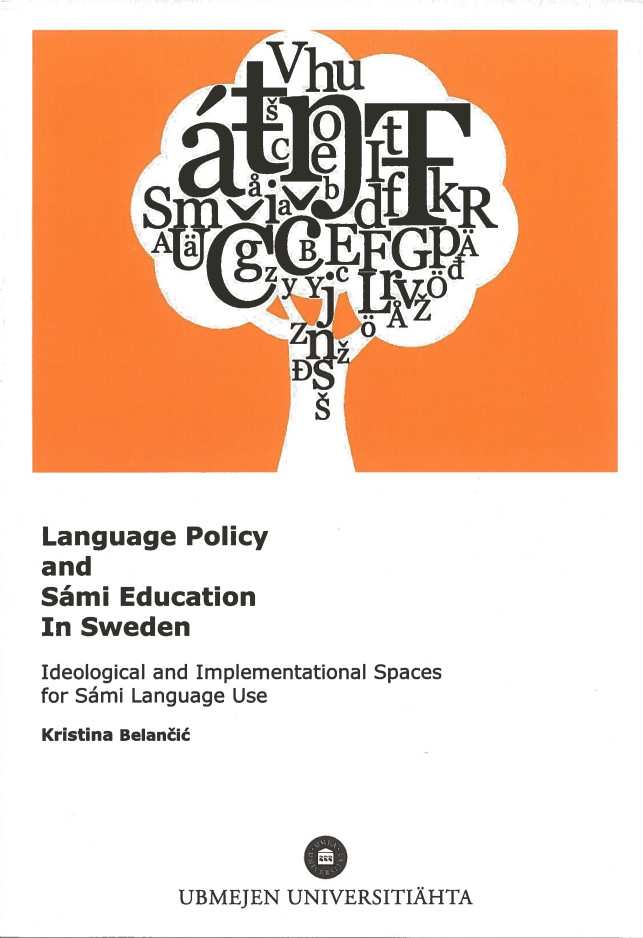 Language Policy and Sámi Education in Sweden – Ideological and implementational spaces for Sami language use
Kristina Belancic
Köp 283 kr
Publicerad 2020
Isbn 9789178552986
Typ Häftad
138 sidor
Engelska
Sv
Utgångspunkt i detta avhandlingsarbete är lärares iakttagelse att allt färre elever som går i sameskolan använder samiska i sin vardag. Tidigare forskning har visat att elever kan sakna sammanhang där minoritetsspråken används och i relation till det samiska språket har hemmet och skolan beskrivits som de två viktigaste språkarenorna. I hemmet spelar föräldrar en viktig roll när det gäller att föra språket vidare till sina barn medan det i skolan är lärare som är ansvariga för arbetet med elevers språkutveckling. Sedan 2011 finns en egen läroplan för sameskolan (Skolverket 2019), där vikten av arbete med samiska normer, traditioner och språk lyfts. Samtidigt beskrivs denna läroplan bygga på den svenska läroplanen. Forskning visar att policydokument, som till exempel läroplanen, kan innebära både möjligheter och hinder för användning av minoritetsspråk och urfolksspråk. Å ena sidan möjliggör policydokument flerspråkighet genom att erkänna urfolksspråken och minoritetsspråken. Å andra sidan riskerar flerspråkighet i klassrummet att hämmas då dessa språk inte anges som undervisningsspråk och anses inte lika viktiga som huvudspråket i policydokumentet (Hornberger och Johnson 2007).
Eng:
In Sami schools in Sweden, the use of the Sami languages and Swedish as languages of instruction is regulated by government and education policy; legislation allows Sami and Swedish to be used for teaching and learning. However, agency and personal beliefs about Sami languages play important roles in language use. Indeed, ideological and implementational spaces can be opened or closed, and support or hinder the use of Sami languages.
This thesis explores language use in Sami schools through a multidimensional qualitative lens of questionnaires, educational policy documents, interviews, and participatory observations. In this way, the multilingual practices of Sami schools are analyzed and the factors contributing to the creation, opening, and closing of ideological and implementational spaces for Sami language use are identified.