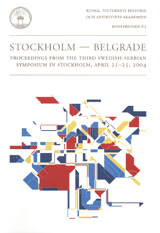 Stockholm - Belgrade – Proceedings from the third Swedish-Serbian symposium in Stockholm, April 21-25, 2004
Sven Gustavsson
Buy 233 SEK
THIS SYMPOSIUM was part of the co-operation between the Royal Swedish Academy of Letters, History and Antiquities and the Serbian Academy of Sciences and Arts. 'The contributions elucidate the chosen topic - this time the capitals Stockholm and Belgrade - from various angles and with various scientific perspectives.
The Swedish researchers discuss Stockholm through factors of spatial differentiation, immigration and urban policy, real and imagined borders, modernist architecture, music and cultural diversity, the management plan for the urban national park, growth and stagnation in the history of Stockholm, and Stockholm in literature.
Most of the Serbian contributions take up the situation at the end of the 20th century and the beginning of the 21st, such as the social and political grounds of the destruction of the built environment of Belgrade, the socio-demographic development, the search for a new musical practice of the immigrants/refugees in Belgrade, and reflections on the history of Belgrade in the 1990s. Other contributions concern modernism in the planning and construction of New Belgrade as we11 as literary life in Belgrade.