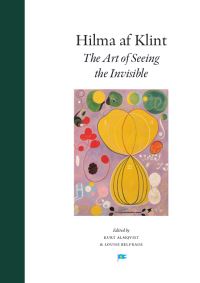 Hilma af Klint. The Art of Seeing the Invisible
Kurt Almqvist (ed.), Louise Belfrage (ed.)
Buy 340 SEK
This volume of essays contains many of the lectures given in conjunction with the exhibition Hilma af Klint – A Pioneer of Abstraction that took place during 2013 and 2014 at Moderna Museet in Stockholm, Engelsberg Manor in Sweden, Hamburger Bahnhof Museum in Berlin and Museum of Modern Art in Louisiana, Denmark.
Scholars and experts of abstract art, art history, history of ideas and cultural and religious studies have made ground breaking contributions. The topics range from early abstract art, the impact of Darwinism, Goethe's Colour Theory, as well as the importance of occult religious movements such as Theosophy, and Anthroposophy that influenced the early modernists, to Hilma af Klint's own personal diary notes and research.
Axel and Margaret Ax:son Johnson Foundation arranged these international seminars to facilitate a scholarly interdisciplinary discussion regarding the emergence of modern art with particular emphasis on the artistic works of Hilma af Klint, and to disseminate the results, thus providing a larger audience with access to this scholarly topic.